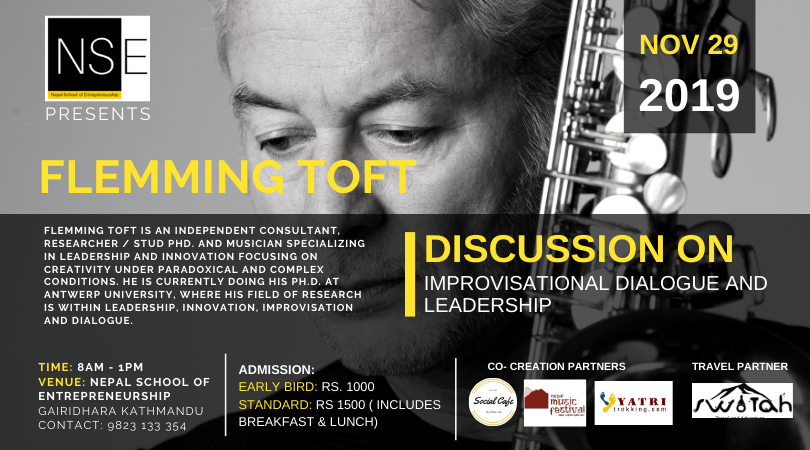 Nepal School of Entrepreneurship 
DISCUSSION ON IMPROVISATIONAL DIALOGUE AND LEADERSHIP
With FLEMMING TOFT (PhD Cand.) Denmark
Date: November 29, 2019 ­
Time: 8 am to 1pm
Address: House No 64. Bishnu Marga, Gairidhara Kathmandu 1 Nepal
Tel. 4427 370

About Flemming Toft
Flemming Toft is an independent consultant, researcher / stud PhD. and musician specializing in leadership and innovation focusing on creativity under paradoxical and complex conditions. He is currently doing his Ph.D. at Antwerp University, where his field of research is within leadership, innovation, improvisation and dialogue.
                                                         About The Event

With organizations facing rapid and uncertain changes, the role of a leader demands the ability to act right upon complexities which require constant rewiring of the way they think. Flemming invites us into the world of improvisation and introduces us to how it can increase our awareness, in relation to leading, navigating and creating in complex contexts. Acting as a catalyst to assemble the organization's diverse competencies, in creative and meaningful ways may not be familiar for the most which calls for new and different dialogues and overlooking these might lead in reaping the whirlwind. Some of the area topics being covered at the event are leadership, co-creation, complexity, emergence, improvisation and so on. Thus, Flemming's integrative approach will allow us to dive deeper in the nature and dynamics of improvisation so as to learn and get inspired from it.
Learning outcomes:
1) Improvisational leadership 
2) Why improvisation?
3) Strategic creative management
4) The exploratory and decision-making
5) Complexity – acting in uncertainty
Who can join?
We are anticipating tailored participants of age group 20-35 from diverse background with a sound entrepreneurial, managerial and leadership knowledge, who can collectively associate to what Flemming has to say.
Registration Fee: Nrs. 1500 (including breakfast and lunch)
                               Nrs. 1000 (for early birds/ first 5 to register)
Kindly fill the Google form below to sign up for the event.
https://docs.google.com/forms/d/e/1FAIpQLSd3HXynTfVYN9MNq35PTjQmadNqptY4GD6lw64EA2AeUkzNQw/viewform?usp=pp_url
 Please note that the deadline is on 25th Nov 2019 and the selection process follows 'first come, first serve' basis. We are only accepting 25 participants so hurry up, grab your seats and make the most out of this amazing opportunity! 
Payment mode: You can pay via fonepay/ E-sewa or directly visit our office at Gairidhara and make payment to the program coordinator in between 12pm-4pm on weekdays.
(*All our participants will get 15% discounts on their next visit to Social Café)

Should you require any further information or regarding collaboration, sponsorship and partnership, please contact the program coordinator:
Deliya Gurung
Email: deliyagurung@gmail.com
Mobile: 9823 133 354 (Between 11am to 5pm)